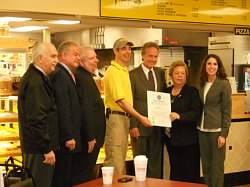 Freshly hand crafted Italian Breads, dozens of choices of cookies and pastries, cannoli made to order, and fancy cakes are waiting for you at our newest location in Methuen, MA.  Our mouth watering Tripoli Pizza is made fresh and hot with toppings of your choice!
Feel free to phone in your order for any of our products. We will be happy to accommodate you for all your bakery needs.
All of us at Tripoli Bakery thank you for your loyalty over the years, and look forward to serving you for years to come.